Live A Luxury Lifestyle – From Valencia To Mallorca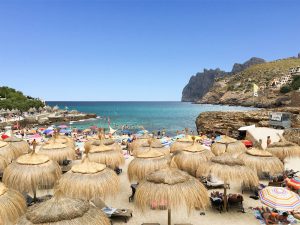 With its all year round climate very much like Valencia, and being so close to home, Mallorca is the perfect dream island to get-a-way from it all for a few days.
Mallorca offers so much from its diverse gastronomy, pretty stone-clad villages and towns, to perfectly formed rolling landscapes and the most impressive mountain ranges. The island's stunning beaches and coves coupled with its tradition and intrigue make it a place worth visiting.
Mallorca is highly accessible from mainland Spain and this is what makes it so appealing as from Valencia to Mallorca it's only forty minutes away by plane. When you are lucky enough to live here then why not use this to your advantage, and cheap flights to the Balearic Islands is definitely a benefit of living on the east coast of Spain!
You can see why the island is so popular to over seven million visitors per year, once you've seen it with your own eyes. It has something intangible, something that you can't quite describe, a rustic charm that appeals to everyone. The aquamarine waters are enticing as are the island's pristine white sandy beaches and rocky coves.
Don't be fooled though, Mallorca is a far cry from your 'typical' holiday destination. If you want more from your holiday than just sandy beaches and crystal clear waters, then you don't need to look too far. Scratch the surface and there's lots more to find.
Like the rest of the island, the capital city, Palma, has a very rich and colourful history. The cobbled streets of the old quarter of the city lead you to Palma's most prestigious museums, art galleries and architecture.
The soaring Seue Catherdrale watches over the city, a timeless reminder of the cities' spirit and its historical past. You can climb its bell tower and admire the panoramic views, which are spectacular as they stretch across the city, the port and out to sea.
If that's not for you then you could try one of Mallorca's famous weekly markets. Imagine colourful artisan stalls laden with wicker baskets and leather handbags. There's homemade jewelry, and crafted items to display at home, a permanent reminder of your time on the island. There are local producers offering their mouth-watering cheeses, specialist meats, fruits, and vegetables. There are shaded places to sit and sip a coffee to watch the shoppers' delight in their recent purchases.
You can enjoy the same scenery, restaurants and cafes as the celebrities that return to Mallorca year on year to enjoy their luxurious holiday homes and extravagant holiday rentals. Even the Spanish royal family currently spend their summer breaks split between two of the island's exquisite Palaces. It's funny to think that Felipe can see the benefit of a dual destination holiday!
That's the beauty of Mallorca, it appeals to everyone who visits, and then seduces them to return, no matter who you are or where you've come from.